Turbine Design Conditions
Turbine Inlet Steam Pressure: 100-900 PSIG
Turbine Inlet Temperature: less than 900° F
Turbine Exhaust Pressure: 0 - 399 PSIG
Equipment Description - Single Stage Turbine
Each turbine includes the following features:
2 hand valves to provide maximum operating efficiency at partial steam loads
Simple ring oil lubrication
Dual magnetic pickups for speed control and overspeed protection
Electronic actuator
Speed Reduction Gear if required (required on synchronous generators)
Single reduction, double helical, parallel shaft speed reduction gear designed with a minimum 1.3 AGMA service factor. Housings are made from high tensile cast iron for extra rigidity. Pinion and gear are made from steel forgings and are precision hobbed. Speed will be reduced from a specified turbine speed to a generator speed of 1,800 RPM.
Lubrication System (if required)
Combined lube oil system for both turbine and gear
Shaft driven cast iron oil pump
Water cooled shell and tube oil cooler
25 micron filter with replaceable element
Reservoir sized for two minute retention time
Oil temperature pressure gauges, bimetallic, dial type
Low oil pressure and high oil temperature trip switches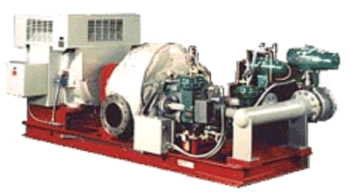 Base Plate and Coupling
The turbine, speed reduction gear (if required) and generator will be mounted on a common heavy - duty structural steel base plate. The turbine will be connected to the generator with a coupling. If a gear is required, the gear and the generator will be connected with a close-coupled gear type coupling. These couplings have a 1.5 service factor. A coupling guard will be provided over all installed couplings.
Shop Drawings & Operating Manuals
Turbine generator assembly drawing showing equipment, baseplate and mounting holes.
Field wiring diagrams
Internal wiring diagrams for turbine and generator controls
Certified dimension drawings for equipment showing required utility connections.
Complete operation and maintenance manuals in duplicate shall be provided at the time of system startup. Each manual shall include all final approved shop drawings plus installation, operation and maintenance manuals for all major components.