George K. Moss Co., Inc. provides 300 - 1,500 HP 3 pass wetback firetube scotch marine boilers. The reason for using only this type of boiler is simple - they last longer, run harder, require less maintenance and provide better value for our customers. In addition, we prefer to use only Industrial Combustion burners because of their heavy duty - high quality industrial design. This boiler/burner package provides our industrial customers with a dependable rugged steam boiler that provides a dependable steam supply for their process requirements.
Our thought process for using this type of scotch marine boiler is because our design - eliminates as much refractory as possible, designs for low BTU heat release in the furnace, provides a large turn around area at the start of the second pass tubes, design provides a large steam storage and disengaging area and also provides the proper amount of heating surface in the boiler to guarantee an efficient system to operate.
3-Pass Wetback Firetube Scotch Marine Packaged Boiler
300 - 1500 BHP Capacity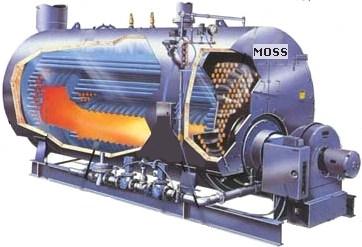 1. George K. Moss Co., Inc. boiler/burner units are covered by the manufacturer's warranty of 18 months from date of shipment or 1 year from date of start up.
2. Davited front doors allow for total access to the return tubes without interference of baffles or inner doors.
3. Front and rear doors are closed using studs with lugs and brass nuts for ease of opening and closing.
4. Moss provides Industrial Combustion burners that are designed for efficient operation and ease of maintenance. Each burner is specifically matched with the furnace diameter and length for complete/efficient combustion. Burners are available to burn natural or waste gases/#2 diesel/heavy oil/hydrogen/ and other fuels utilizing air atomization for proper and complete combustion.
5. Air louver linkage and setting visible for monitoring, adjusting and cleaning.
6. Control panel - burner or boiler mounted for convenient operation and maintenance.
7. Control circuit junction box with terminal strips to permit checking individual control operations.
8. Factory mounted and wired gas train complete with main gas pressure regulator. Standard gas trains comply with UL requirements. IRI/ FM and other code requirements are available upon request.
9. Structural steel skid type base supports and protects burner.
10. Large diameter furnace provides for complete combustion and maximum heat transfer. Furnaces for Section VIII (high pressure boilers) - 24" diameter and larger are of the corrugated design.
11. Wetback turnaround eliminates the need for refractory lining, baffles, gaskets, and provides additional primary heating surface for increased efficiency.
12. Split/davited rear doors provide access to the rear tube sheet and third pass tubes.
13. Round rear smoke outlet requires only a stub stack for proper draft.
14. Heavy steel lifting eyes for ease of handling.
15. Two (2) inches of 8 lb. density mineral fiber insulation reduces heat loss through the jacket and provides jacket support.
16. Hard silicone based enamel paint finish is applied to the 22 gauge phosphate galvanized coated steel jacket.
17. Our 3-pass design provides for optimum efficiency and low maintenance operation.
18. Front smoke box and doors lined with ceramic fiber blanket.
Shown below are some of the reasons our industrial boiler design will provide your Company with years of low maintenance and operational cost.
| | |
| --- | --- |
| | Rear fireside access is available through the 16 1/2" diameter access opening and the split/davited doors. A 3" x 4" handhold allows for waterside inspection and washout. |
| | Split/davited doors provide full front tubesheet access. No electrical, fuel lines or linkage must be disconnected for access to the fireside. Front smokebox doors lined with ceramic fiber blanket. |
| | Waterside access is provided by two 3" x 4" handholes in the front tubesheet near the bottom of the shell in addition to two handholes on the bottom centerline. One 3" x 4" handhole or one 12" x 16" manway on the top centerline and one 3" x 4" handhole in the rear tubesheet. |
| | Boilers 3-pass design maintains gas velocities for effective heat transfer with moderate gas-side pressure drops resulting in efficient gas to water heat transfer and reduced blower motor loads. |
| | The wetback turnaround eliminates refractory baffles and gaskets. Separate tubesheets allow for differences in expansion due to varying temperatures of the gasses. |
| | Steam boilers - Large disengaging area and dry plate (high pressure) or dry pan (low pressure) at the steam outlet assures high quality, dry steam. Design pressures 15 psig, 150 psig, 200 psig, and 250 psig. |
| | Factory fire test - each packaged boiler/burner unit undergoes a complete fire test, including a thorough check of all electrical components and adjustment of the combustion. |
| | All boiler/burner units are manufactured to ASME code requirements; a registered inspector of the National Board of Boiler and Pressure Vessel Inspectors check each unit. |